---
Sunday, April 22, 2012
Crispy pork belly with pickled cabbage and sweet and sour chilli sauce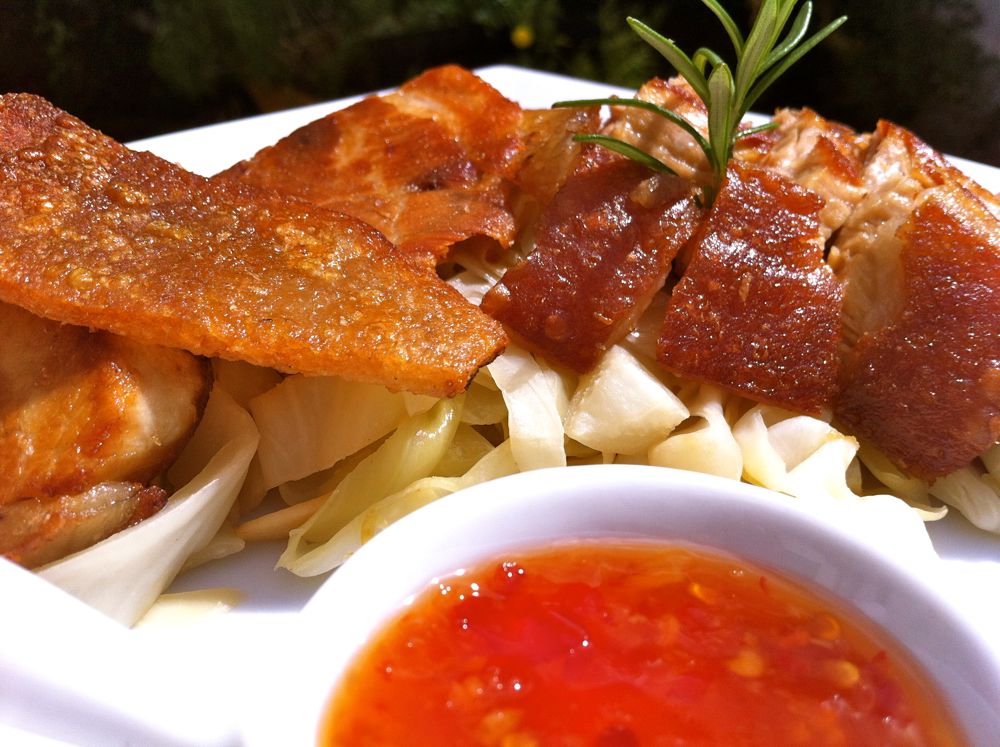 Ingredients
Crispy Belly
500 gr. whole fresh pork belly with skin
a few grains of black pepper
3 bay leaves
1 handful of salt
1 liter of oil
pickled cabbage
300 gr. Cabbage
1 lt. of water
0.5 liters of white wine vinegar
1 clove of garlic into slices
2 pinches of salt
3 tablespoons of olive oil e.V.
sauce
1/2 cup white wine vinegar
1/2 of water
3 tablespoons sugar
1 clove garlic, minced
1/2 tablespoon of crushed dried chillies
1 and 1/2 tablespoon of cornstarch with 4 tablespoons of water
Introduction
In my opinion one of the best way to enjoy pork belly is with a double cooking process. First boiled/steamed to becomes tender, and the second one fried to make it crispy. Honestly, it seems to eat a roasted suckling pig with crispy skin. I assure you, the result is excellent! You can also grill it instead of frying. I have done in both ways as you can see in the picture (the sliced ​​grilled, the fried cut into pieces). Between the two I prefer the fried, no doubt.This double cooked pork, I learned it in Thailand.
Even the sauce is in Oriental style, but has very little to do with the classic Chinese take-away restaurant in Europe.
Pickled cabbage ( Mantova style ) seems to me a great accompaniment for a fat meat. They are really quick and easy to make. Different than the German sauerkraut which had a fermentation process, but similar in taste. Perfect side by side with a mawkish taste like fatty meats. Great balance between fat and sour.
Keep in mind this essential concept: The real art is the balance of flavors and the contrast between them, is what creates the harmony.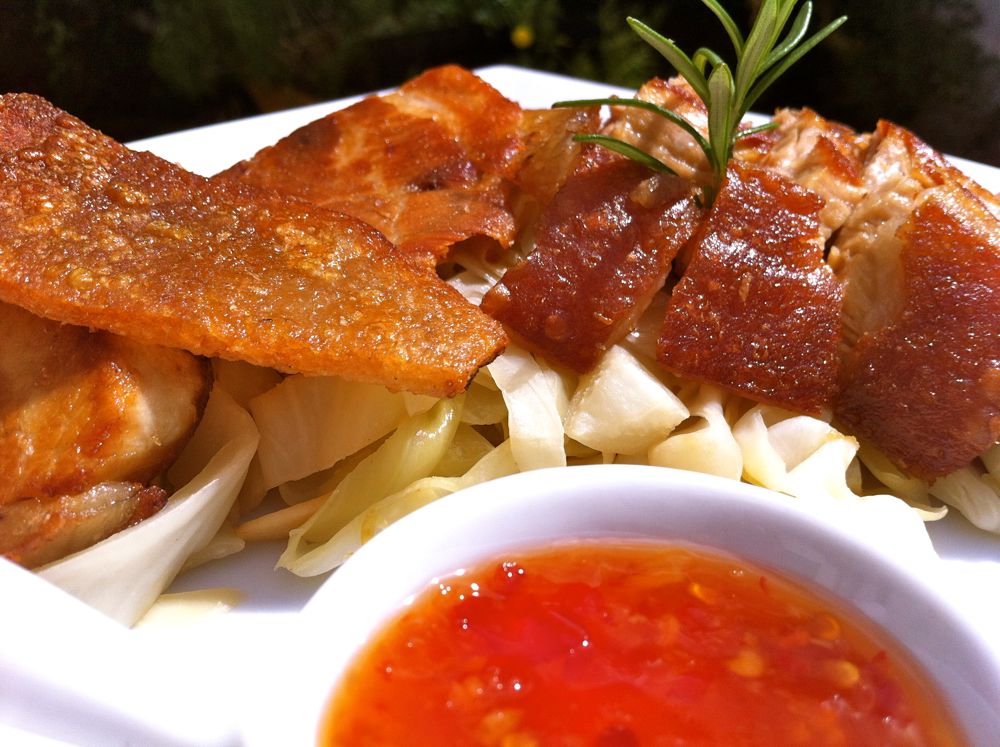 As you can see I combined techniques from eastern styles with a western recipe (pickled cabbage). I emphasize technique rather than flavors. Therefore, i do not call this concept  "fusion". And as for the sweet and sour, it' s a very common thing in our Italian cuisine since centuries (see my grandma's eggplant picciriello in starters ).
For meat  take a one big cut of belly and boil with plenty of water about  3 hours, along with a few bay leaves, peppercorns and a handful of salt. Once cooked leave to dry in the fridge wrapped with a cloth. On the next day, fry the whole piece in a pot with plenty of oil at high temperature. As much oil as is sufficient to cover it. 5-7 minutes and it is ready. To make sure, look at the skin, when full of micro bubbles, it is ready. Serve warm.
For the pickled cabbage Mantova's style: bring to boil the water with the vinegar, and put the shredded cabbage (1/2 cm) for about 5 minutes. Keep it al dente! Drain it and pass it in a pan it with the sliced garlic, two pinches of salt and oil for a couple of minutes. Serve warm or cold.
For the sauce, bring to boil the water, vinegar, crushed garlic, crushed chilies, and sugar. After 10 minutes (or when reduced by half)  add the mix of corn starch and water ( 1 tbsp of starch with 4tbsp cold water). bring to boil for another 2 min. turning with a whisk. Serve warm or cold.