---
Sunday, July 28, 2013
Spaghetti with scampi sauce and bottarga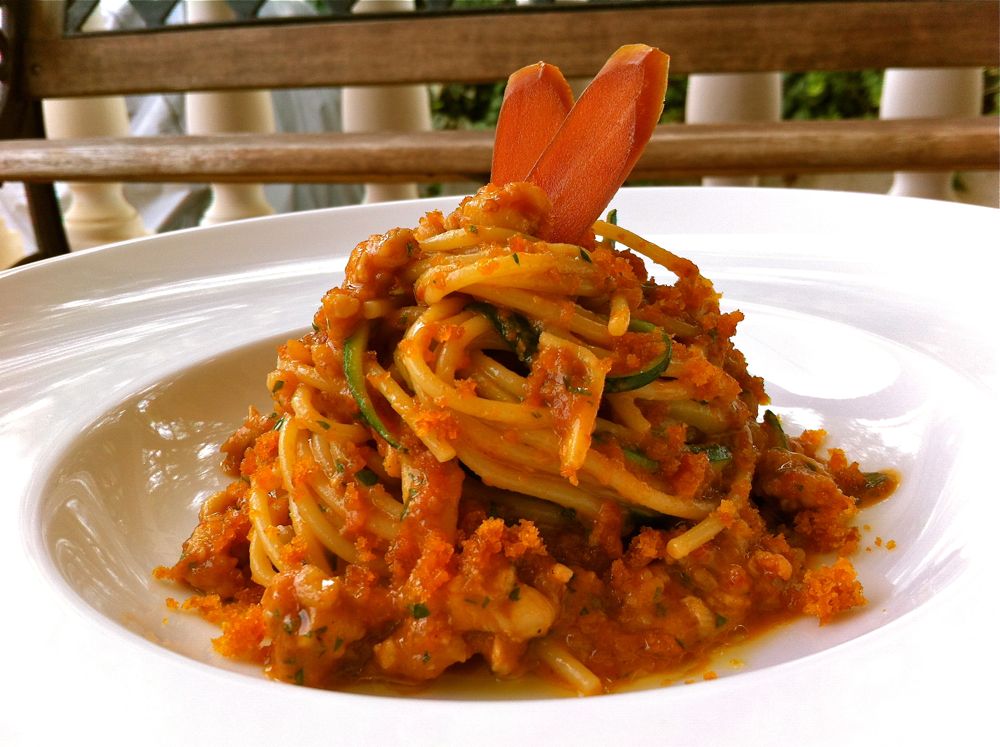 Ingredients
300 gr. small scampi
40 gr. of bottarga (not the powder)
250 gr. spaghettoni
2 ripe tomatoes for sauce
1 clove of garlic
extra virgin olive oil
half an onion
1 carrot
some parsley
pepper
Introduction
Scampi and bottarga, one more sweet and one more salty. It is not easy finding a good match for the Bottarga. Bottarga are the cured eggs of the mullet. A delicacy of Sardinia. It has at the same time a strong and delicate sea taste, similar to sea urchin, a very fresh and slightly salty taste.
The most classic combinations with bottarga are clams, artichokes or just a plate of spaghetti with garlic, oil and cherry tomatoes. This is one of my favorite way to enjoy this "gold of the sea".
I'm very happy for the success of this dish. Scampi have a sweetish taste and do not cover the bottarga, even if between the two they take the leading role and especially if made in a strong sauce extracting all its flavor of the heads. In fact, the bottarga only complements the scampi in this dish. I added some zucchini only to refresh and give a bit of color.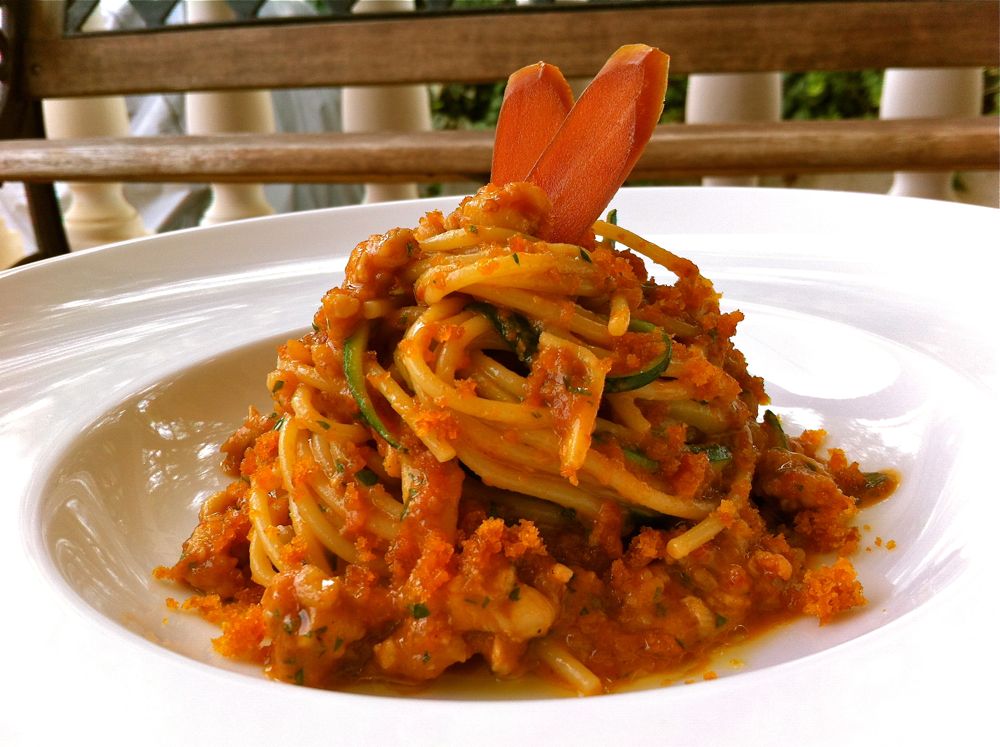 For a scampi sauce you do not need to buy the big ones. Those small are perfect and also cheaper.
Before you make the sauce prepare a concentrated flavor of scampi. A simple and rapid consommè then reduced.
Cut the prawns in 2 lengthwise, separate the meat from the tail and put it aside. Fry in a pot the heads and shells with 3 tablespoons of olive oil. When well roasted add the chopped onion and carrot. after a couple of minutes some sweet wine and add water  (just over 1 liter). High heat until it remains 1 generous cup of broth (about 15min.). In this way we concentrate all the flavor of these little prawns.
Fry in a pan with 5 tablespoons of extra virgin olive oil a clove of minced garlic, 1 chilli pepper and add the chopped tails. Add some white wine and add the grated tomato. When this starts to reduce, add the concentrate consommè  and continue cooking until you get the consistency of a classic tomato sauce. Check seasoning, add the chopped parsley, the spaghetti and sautè. Off the heat add half the grated bottarga, turn and serve with the rest of the bottarga sprinkled on top.