---
Monday, April 2, 2012
"Mostarda mantovana", great combination for cheese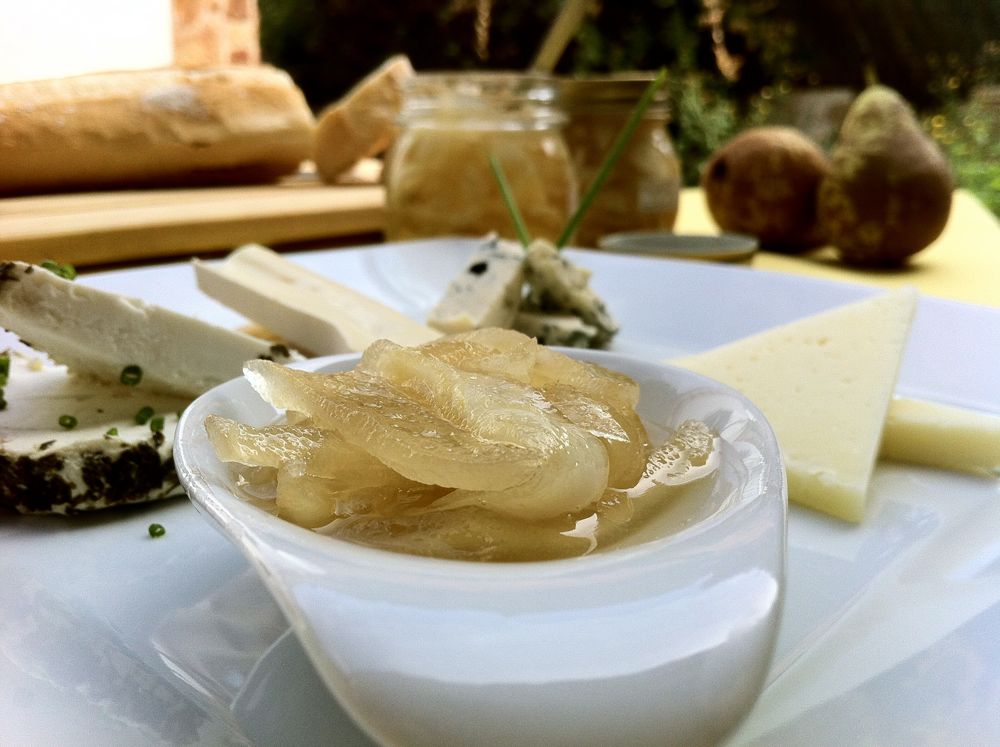 Ingredients
ingredients: aprox. 20 rations.
1 kg. of clean unripe pears
1/2 kg. sugar
30 drops of mustard's essence
Introduction
One of the most classic and also one of the oldest recipe of Mantova ( Italy )( dating back to the year 300 ) is the "mostarda" ( mustard ) of quince apple . A type of jam made with mustard's essence.
Pears side by side with the cheeses have always been a classic, but if done under sugar and mustard, it becomes something truly deep. So deep some that the mustards, will make you eyes tears. This will depend on the amount of mustard essence added. The peculiarity of these jams, is the relationship between sweet, spicy and fruity. Remember: spiciness lift up flavors. In this sense I speak of depth of in flavor, because it's bronchodilator action consequently will let us appreciate more the flavor of the cheese or the food that you combine with the mustard. By the way, this fruity mustard is very well known to combine with boiled or fatty meats, and even cured sausages.
The elaboration of this jam is easy. The only problem is being able to wait a month before tasting it. Rule that my sister and Simone ignore after a week!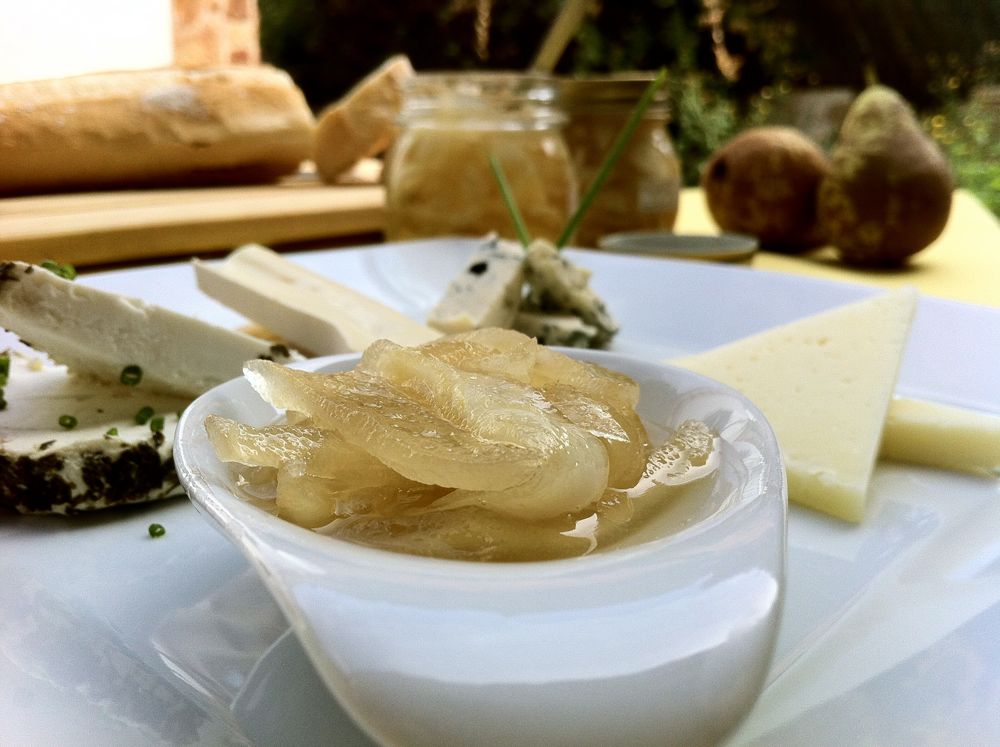 Buy a abundant kilo of green pears, not ripe. Wash, peel, cut into slices with a thickness of about 3 or 4 millimeters and take the seeds out . Place the pears in a bowl with the sugar, mix well and leave covered out from the fridge. By osmosis, the sugar will draw out the water of the pears. After 24 hours, drained the pears gathering all the liquid juice. Put the liquid in a saucepan for 3 minutes approx. and than put it immediately back on the pears in the bowl. Turn and let stand. Repeat this process drain-boiling-cooling after another 24 hours. A total of 3 times and on the fourth day bring to a boil pears and its juice (now syrup) together, for another 3 minutes. Let cool and added 30 drops of mustard's essence. Stir well and potted in jars. Handle the essence with caution, Keep it away from too the eyes and avoid contact with the skin.
If you prefer it more or less spicy, varies by decreasing or adding drops five in five.
To ensure a long lasting of the jam, fill the jars to the top and steralize in boiling water for about 30 min.
I'm sorry about any mistakes I may have made, English is not my first Language