---
Monday, February 20, 2012
Spider crab and green peppers spaghetti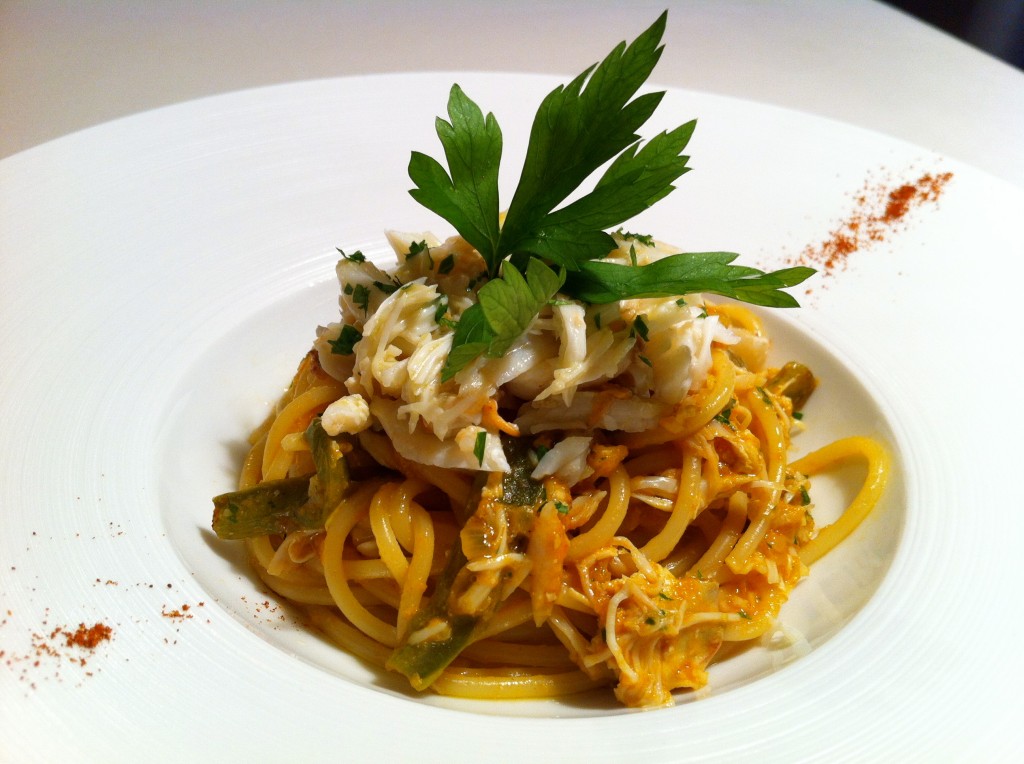 Ingredients
Ingredients for 4
1 crab of 1 kilo or two of 500 gr.
400 gr. of spaghetti
1 large green bell pepper
1 shallot
3 cloves of garlic
2 ripe tomatoes sauce gratuggiati
5 tablespoons of extra virgin olive oil
a few sprigs of parsley
8 Tbsp olive oil
Introduction
The crab is for me the kings of the crustaceans. For its tender, delicate and sweet flesh. In my opinion even better then lobster, despite the price difference, which is certainly not what does judge the goodness of a species, but often only reflects the market's demand, its more or less abundance in nature and certainly, the costs for his capture. On the palate its like a cross between lobster, for its delicate flavor and the prawns for his sweet head. But with a difference and the advantage of a meat that melts in your mouth. An incredible tender pulp.
Always remember: within the fishes and shellfishes the females are always the bests. As in our life! And usually the most expensive, for her eggs. Choose well then!. And to help you recognize the difference, I report here some proof of the genitals at the bottom. Valid for both spider crab or similar crabs. Also a knowledge to give you some more respect from your fishmonger. (Female first two, the last two male)
Because of its sweet taste, I chose the combination with the green pepper, which already go hand in hand and I haven't added any wine given the acidity from the tomato. But feel free to use wines or spirits, they won't do any bad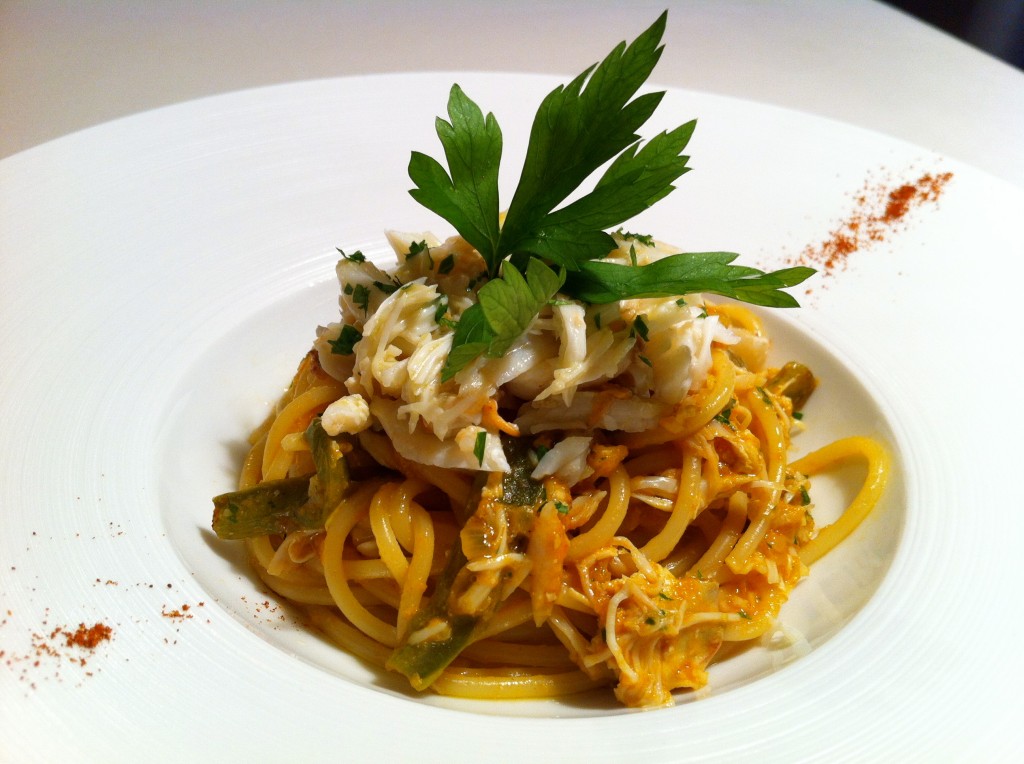 .
To cook the crab, bring plenty of water to  boil and make sure it is almost as salty as sea water. Don't reuse the same water for cooking the pasta. Submerge the crab alive and cover. Cook for 13 minutes aprox.
Once withdrawn from the water and cooled dawn a little, turn it belly side up and pull the body while holding the head, so not to loose it's  juices and all the gray/orange part from the had. Inside the body you will find the gills arranged in circular ( light gray color ). Throw the gills and take all the pulp. Help yourself with a meat mallet or a nutcracker to crack the claws and a heavy knife to cut into four the bust.
In a pan fry (in this order with olive oil 8 tbsp) the peppers into strips, chopped shallots and garlic. Then add all the orange/grey part that was in the head in the head. Time a minute or two and add the grated tomato. Cook 5 -10 min.  the sauce, season with salt, add most of the pulp of crab and the chopped parsley. Drain the spaghetti, sauteed and served with the remained pulp on top.
I'm sorry about any mistakes I may have made, English is not my first Language