---
Sunday, May 20, 2012
Artichoke's ravioli with lemon's zest and bottarga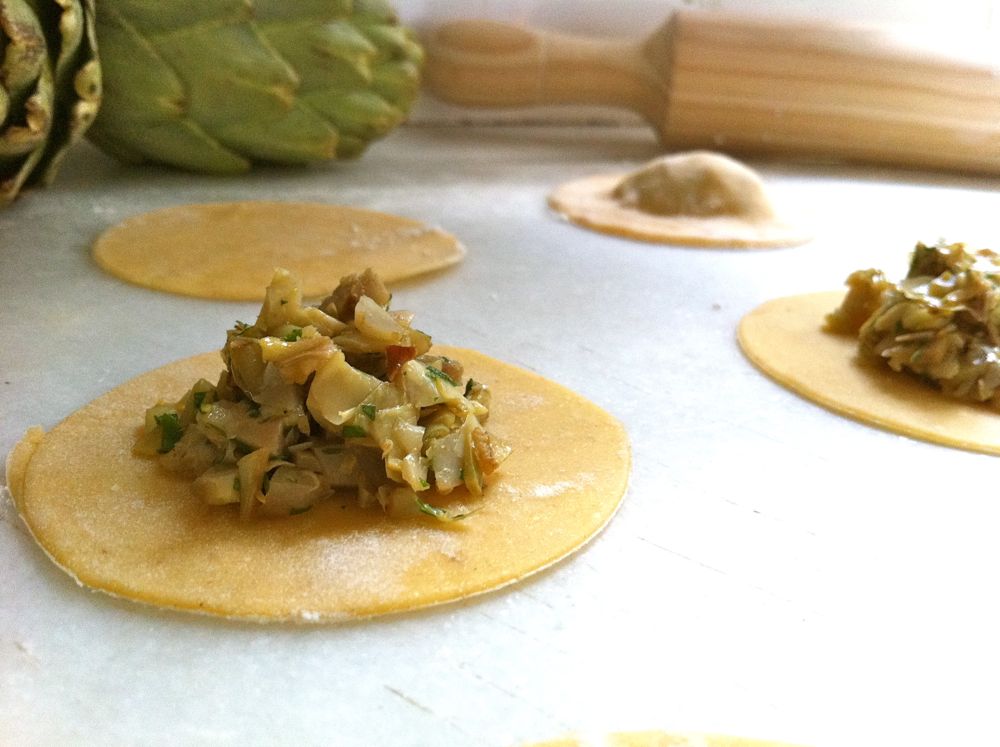 Ingredients
Ingredients for 4:
300 gr. flour 00
3 whole eggs
10 artichokes
80 gr. bottarga
2 cloves of garlic
extra virgin olive oil
1 knob of butter
grated zest of half a lemon
a sprig of parsley
Introduction
A fantastic combination: my favorite vegetable flavored with lemon zest and combined with the gold of Sardinia, the "bottarga" ( cured mullet's eggs ).
Bottarga is one of the top delicacies of Sardinia. It has a very straight taste of the sea. It's similar taste to a urchin just opened and eaten. But this eggs are not fresh, as they undergo a process of salting and curing. This is the amazing part, as it keeps that fresh taste even after being cured.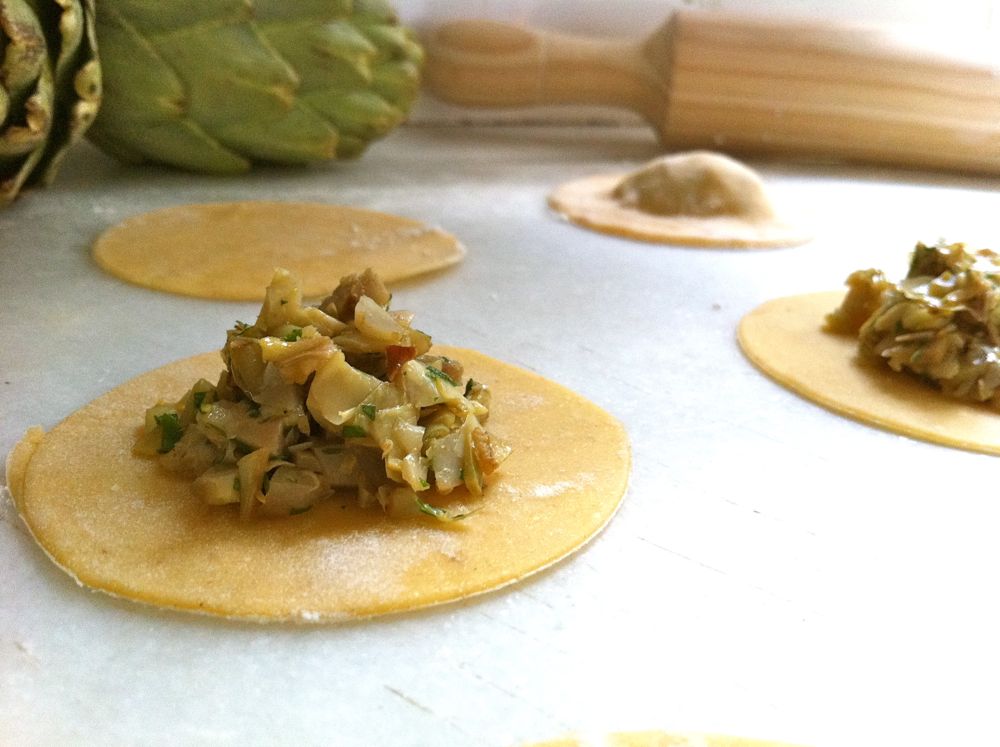 For the dough, amass (about 10 minutes) the flour and eggs until mixture is smooth. Wrap it up with plastic film or a humid cloth and let it rest in the fridge for about an hour.
For the filling: clean and cut the artichokes into wedges. Put them in a pan with two cloves of garlic, four tablespoons of 'extra virgin olive oil and a bay leaf. When they start to brown, add the salt and cover with a little water. Another 5-10 minutes of cooking until they dry well. Take out the bay leaf, the garlic and add the grated lemon zest and some chopped parsley.When cooled, chop them with a knife.
Roll out the dough with a rolling pin or the machine. Formed squares or circles and put half a tablespoon of filling in each. Close them with pressure, and as soon as the water boils, add salt and boil the ravioli. When cooked, drain the ravioli and put them in a pan where you heated 4 Tbsp of olive oil with a clove of garlic, chopped parsley and a knob of butter. Put the ravioli on a plate and sprinkle generously with freshly grated bottarga.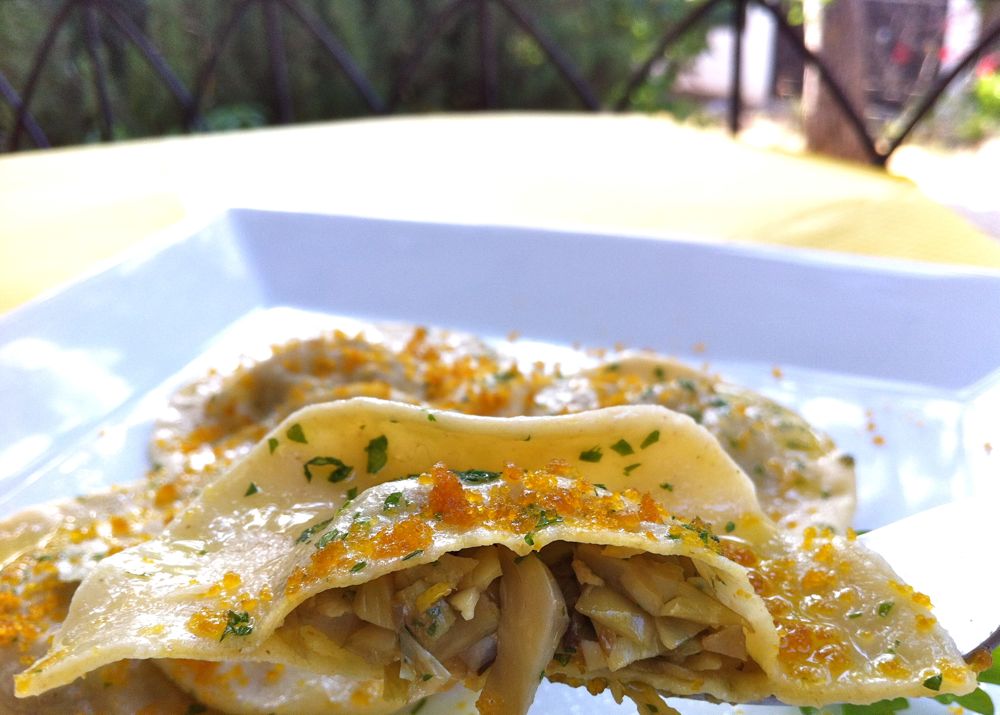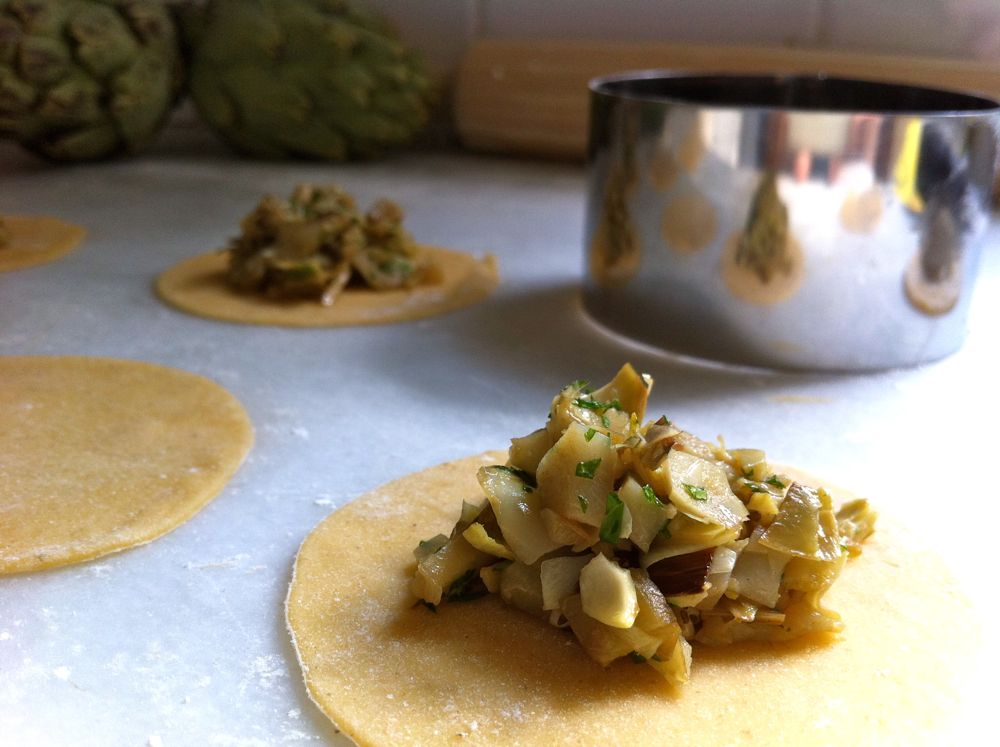 I'm sorry about any mistakes I may have made, English is not my first Language