---
Sunday, April 29, 2012
Goat's cheese ravioli, smoked eggplant sauce and basil oil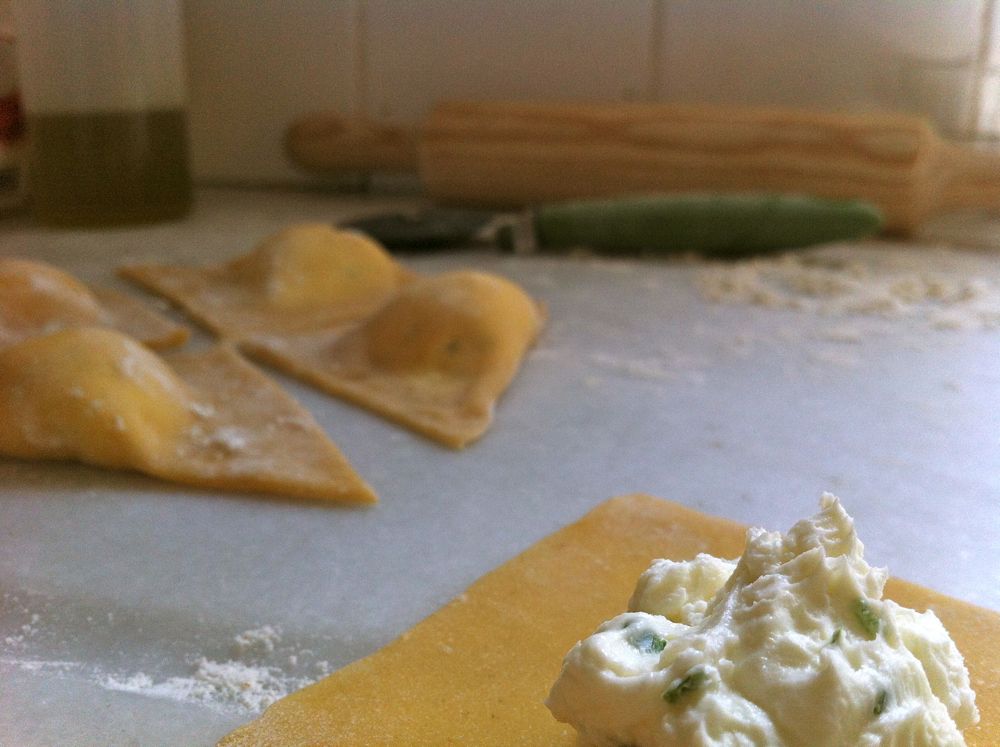 Ingredients
Ingredients for 4:
Dough
300 gr. flour 00
3 whole eggs
The filling for ravioli
200 gr. goat cheese
200 gr. cottage cheese or cream cheese
a sprig of chives
The sauce
1 large eggplant or two small
400 gr. of tomatoes for sauce or peeled
3 tablespoons of extra virgin olive oil
3 cloves of garlic
2 teaspoons of sugar
1/2 bunch of basil (blended with extra virgin olive oil)
Introduction
Eggplant, basil, ..... a sign of summer. A vegetarian dish, rich and light. With basil fragrance and a low-fat cheese, goat cheese. The slightly sour taste of the goat cheese fades with the aroma of the smoked eggplant and then fuse with the sweet cherry tomatoes. One of my favorite ravioli. Perhaps the most rustic, but equally libidinous.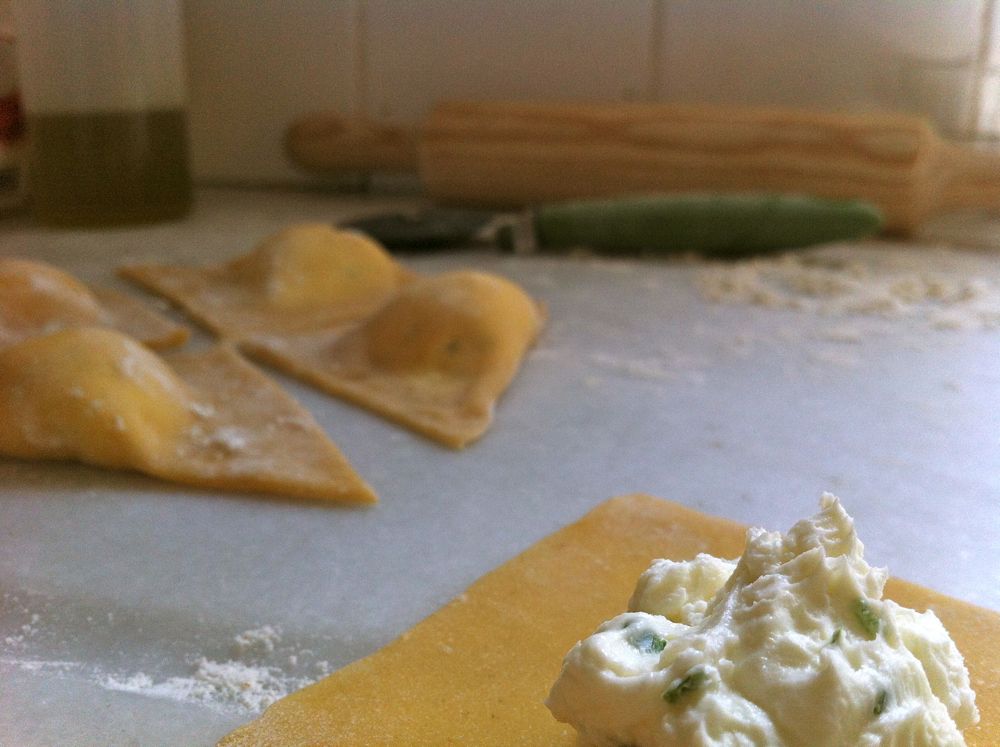 For the dough, amass (about 10 minutes) the flour and eggs until mixture is smooth. Wrap it up with plastic film or a humid cloth and let it rest in the fridge for about an hour.
Meanwhile smoke the eggplant by laying them directly on a stove in direct contact with fire (at minimum flame). In this way you literally burn the skin, forming a crust. Turn gently around after about three minutes and than leave it aside on a plate and let it rest. At this point, cut it in half length wise and with a spoon take the pulp out without scraping the burnt crust. Season and leave it aside. If the eggplant was very large and the heart is not well cooked, do not worry, you'll end his cooking with the sauce.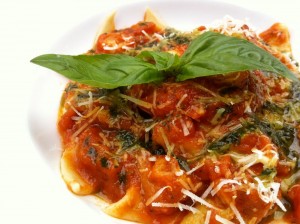 For the sauce, fry the garlic whole but crushed. When browned, add the chopped tomatoes or tin tomato. If necessary, correct the acidity with a couple teaspoons of sugar. Once cooked (aprox. 10 min.) add the eggplant chopped into pieces. Continue cooking a couple of minutes till the eggplant is ready.
For the ravioli filling, remove the crusts from the goat cheese. Crumble and mix with the other cheese, adding a bit of finely chopped chives.
Roll out the dough with a rolling pin or the machine. Formed squares or circles and put half a tablespoon of filling in each. Close them with pressure, and as soon as the water boils, add salt and boil the ravioli. Serve them with the sauce on top, sprinkle with a little parmesan cheese and finish with basil oil.
I'm sorry about any mistakes I may have made, English is not my first Language