---
Friday, March 2, 2012
Tuna tartare with lemon jelly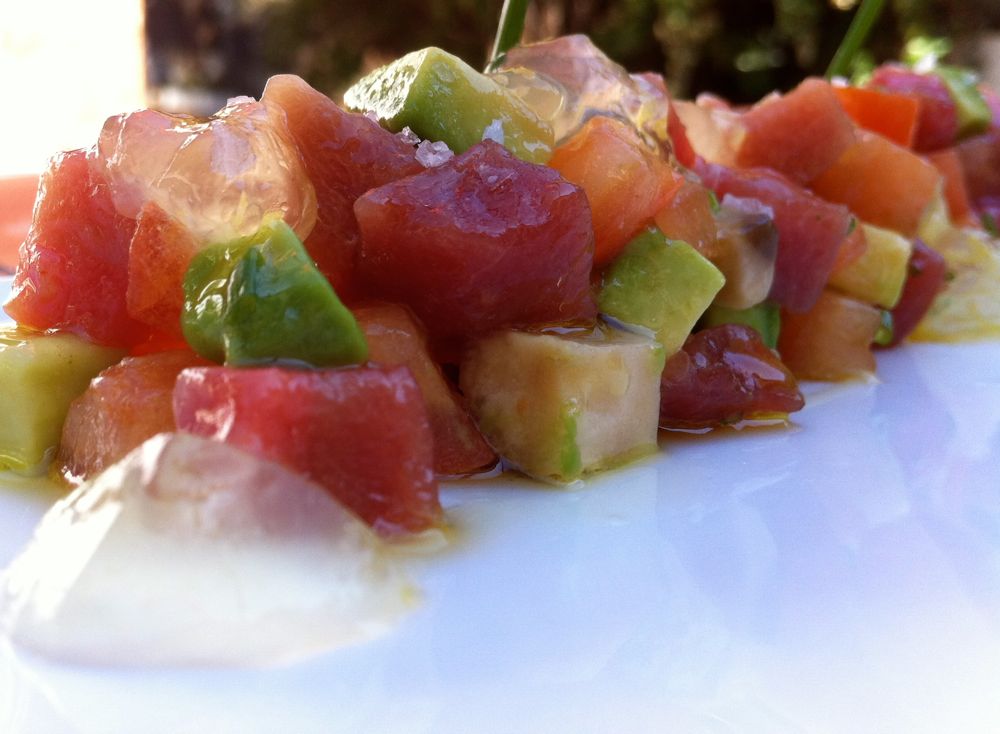 Ingredients
180 gr. Tuna
4 champignon
1 tomato
1 avocado
1 bunch of chives
3 tablespoons extra virgin olive oil
salt in flakes
Lemon Jelly:
zest of 1/2 lemon
100 gr. of water
25 gr. sugar
50 gr. lemon juice
a sheet and a half of gelatin = 2.5 gr.
Introduction
That weather changed ...! it seems we passed from winter to spring in a week. From the Siberian wind to 20 degrees under the sun, from stews and soups to raw fish!. Yes, I woke up with the desire of raw meat, sashimi, tartare, carpaccio ....... . So I made a lemon jelly and bought a nice piece of tuna. The idea of lemon jelly was born from the desire to dress/season the raw fish but preventing at the same time not to cook it with the acidity of the lemon juice. But above all it has a nice effect the moment that it dissolves in the mouth, giving a really pleasant and surprising burst of freshness.
A nice and different way to enjoy a classic dish. The avocado, creamy and delicate in flavor, goes well with this fish rich in protein and omega 3. Also raw champignon mushrooms play their part. The important thing is to combine tuna with delicate flavor. If you notice Japanese people, who knows about this fish (even if they abuse the capture), when they eat a mixed sashimi, the first bite is the tuna, then follows the stronger flavors.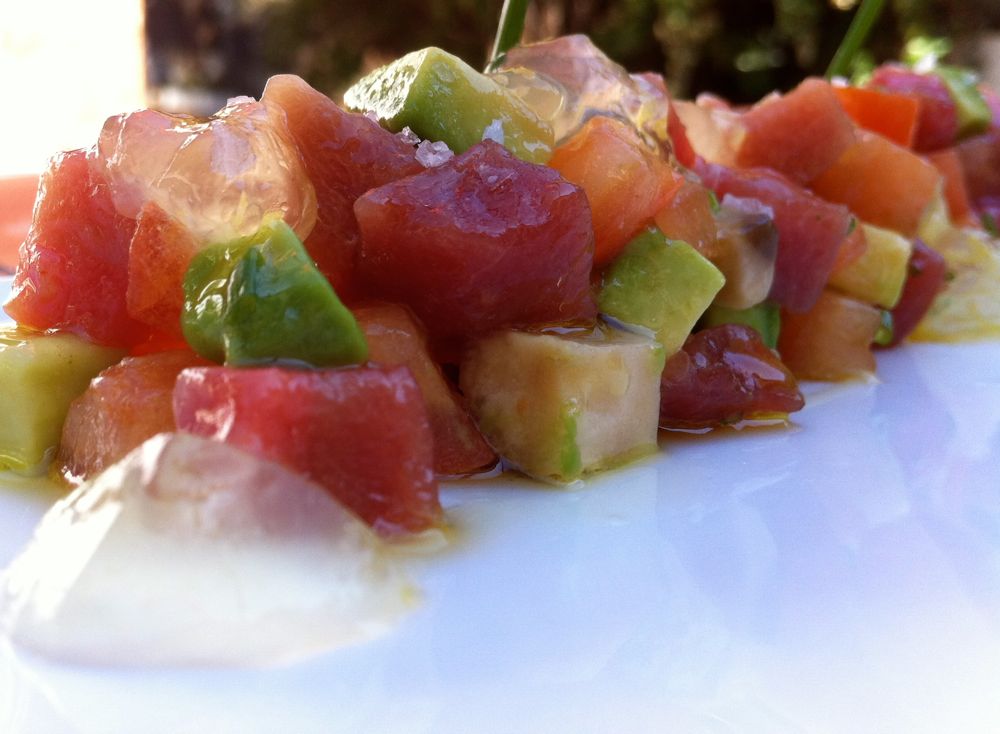 For the lemon jelly, hydrate/soak the gelatin's sheets in water and ice for at least 30 min .. For the syrup bring to boil 100 grams. water with the sugar. Wait 15 minutes for it to drop in temperature and than add the hydrated and drained gelatin's sheets  . Once dissolved add the lemon juice and the zest finely grated. Pour into a small container and let it rest for about 5 hours in the refrigerator.
Final preparation:
For the concassè (diced tomato pulp without seeds and skin), bring to a boil a pot with water and submerge the tomatoes for 5-7 seconds (and not more) and cool immediately in ice water. Peel, cut into quarters and remove the seed.
The mushrooms, cleaned with a damp cloth and pull the stem.
The avocado, without skin and seed.
Cut all the vegetables, the tuna and the jelly into cubes. Add the finely chopped chives, olive oil and salt flakes. Gently mix everything in a bowl and serve.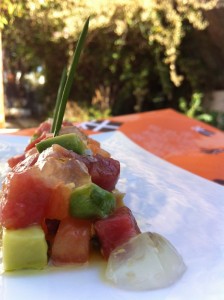 I'm sorry about any mistakes I may have made, English is not my first Language