---
Monday, December 5, 2011
Scallops with wild mushrooms and spinach pure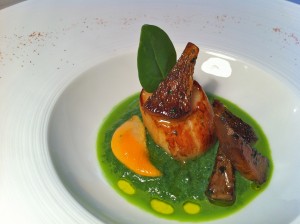 Ingredients
2 scallops with coral
2 handfuls of baby spinach folgie fresci
1 handful of mushrooms of your choice
1 shot of brandy
2 shallots
1 teaspoon of butter
4 tablespoons of extra virgin olive oil
Introduction
Autumn, mushrooms…..finally! This year's weather delayed the season a little, particularly here in Valencia. October, in theory, would be the best month.
I chose the mushroom "lactarius deliciosus" because it is the first one I found at the market! And it 's very good. The consistence is slightly hard, so I do not recommend eating it raw. I usually only use the garlic when I saute the mushrooms, but given the slightly bitter taste, I balanced this one with some chopped shallot, and just a little garlic and parsley at the end.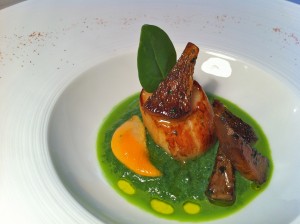 For the creamed spinach: bring the water to a boil and blanch the leaves for 5 seconds (no more) and cool immediately in cold water with ice.  This shock is a technique that allows you not to lose too many vitamins and flavor in vegetables and keeps the chlorophyll's nice color.  Blend the leaves with shallots (previously sautéed), a little of the cooking water, and a teaspoon of butter.
Salt the scallops and cook them in a non stick pan with hot oil for about a minute on each side depending on the size of the mollusk (the coral for only 15/20 seconds), then deglaze with brandy or white wine.
Place all on the plate to your liking.