---
Tuesday, November 29, 2011
Green Curry Chicken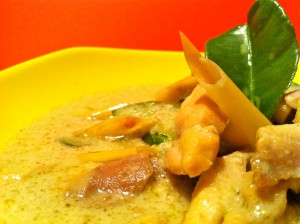 Ingredients
200 gr. chicken into small pieces
3 cups of coconut milk
1/2 eggplant cut into cubes
1 full tsp of green curry
2 tablespoons of sugar
4 tablespoons of fish sauce
1 stick of lemongrass (lemongrass), cut into chunks
8 kaffir lime leaf
a few basil leaves
Introduction
The green curry is one of the most classic thai dishes. Compared to the Indian's yellow curry powder, this comes in the form of a paste, being a mix of dried spices and fresh herbs. It is very spicy and can be combined with many proteins. The most common: chicken, pork and shrimp. Cooked with coconut milk, fresh herbs and two types of baby eggplants (one with the shape of a fig, and one that seems almost a green pea) which are very difficult to find in the European market. So we shall replace them with the common eggplant or zucchini cut into cubes. The herbs are kaffir's lime leaves, lemongrass and basil. All cooked with coconut milk and served with thai rice (jasmine rice).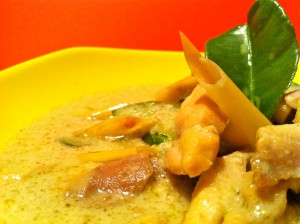 In a pan melt the curry paste with a little oil or directly in with the coconut milk. Add the lemon grass (cut into chunks) and sugar (preferably palm sugar).  Cut the chicken breast into strips and let it rest with two tablespoons of fish sauce until it has reached nearly room temperature.  Add the vegetables to the curry and when cooked, add the leaves of kaffir lime, the basil and the chicken.  Once the chicken is cooked, check the seasoning by tasting and adding fish sauce, if necessary.
To cook the rice, calculate a unit and a half of water for one unit of rice. For two people use 1 cup of rice. Rinse the rice three times to remove any impurities and the excess starch. Drain, add its proportion of water, a pinch of salt and put it on a small fire on high heat. As soon as it starts to boil, lower the heat to minimum and cover.  Calculate 16 minutes, turn off and leave covered for 10 min. to rest. Never turn the rice at any time.