---
Saturday, November 19, 2011
Krapao Moo (Thai stir fried pork)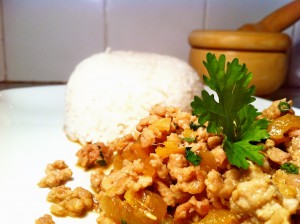 Ingredients
400 gr. minced pork
1 onion
3 cloves of garlic
2 or 3 tablespoons of fish sauce
1 tablespoon of oyster sauce
1/2 cup of water
chilli to taste
6 spoon of sunflower oil
Introduction
This is one of my favourite thai dishes. It's easy, quick, cheap and delicious! A real healthy fast food.
It's just minced pork stir fried with traditional thai seasonings. You can use any protein you want. The most common for this dish are: pork, chicken, clams and squid. Here, I'll do my version of the classic recipe. In my version, I replace the basil with cilantro and add ginger. Basil is one of the most used herbs in Thai cuisine. There are three types. In this case we use Sweet Basil. It's different from our basil, this is why I replace it with coriander.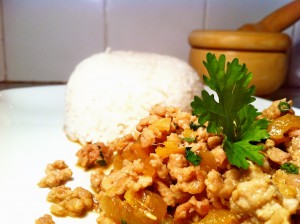 If you do not have a "wok", use the pan you have.  To start sauté the chopped onions, then add minced garlic and chilli.  Also add the chopped ginger  if you do my version.  Then add the meat.  Stir fry and just when it's cooked, add the fish sauce and oyster sauce.  Add a half glass of water to keep it moist and the basil or cilantro at the end.  Serve with thai jasmine rice or basmati.  No risotto rice please!
To cook the rice, calculate a unit and a half of water for one unit of rice. For two people use 1 cup of rice.  Rinse the rice three times to remove any impurities and the excess starch.  Drain and add its proportion of  water, a pinch of salt and put it on a small fire on high heat.  As soon as it starts to boil, lower the heat to minimum and cover. Calculate 16 minutes, turn off and leave covered for 10 min. to rest. Never turn the rice at any time.