---
Monday, June 24, 2013
Octopus brochettes with mango vinaigrette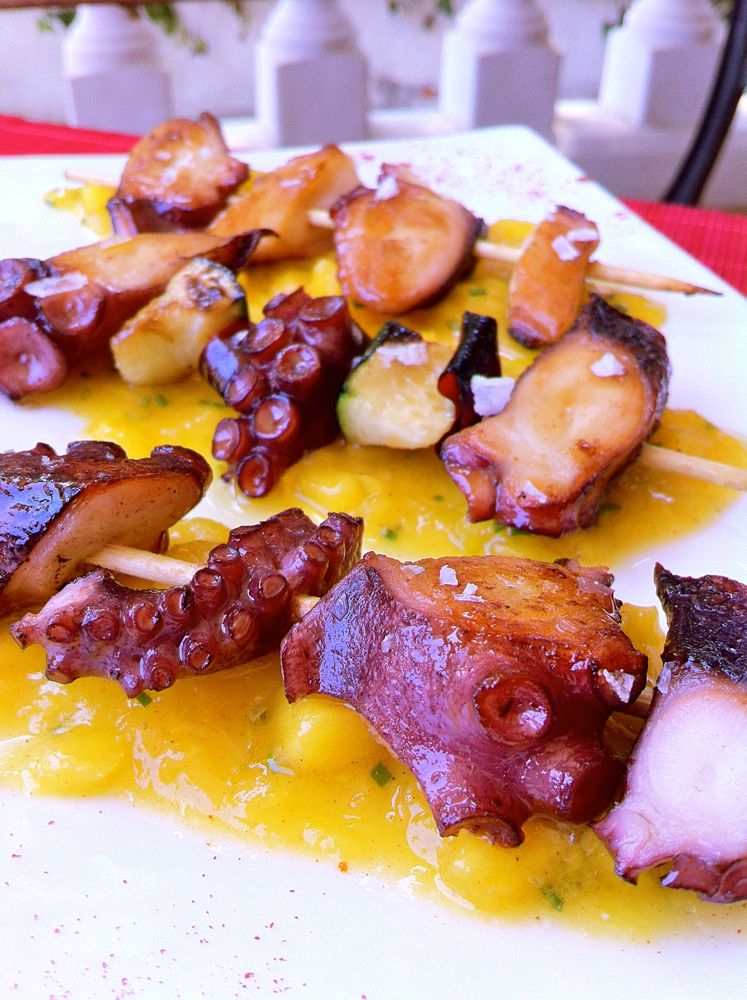 Ingredients
300 gr. of cooked octopus
1 ripe mango
1 tablespoon fresh lemon juice
1 tablespoon honey
4 tablespoons of olive oil
2 cardamom pods
a pinch of smoked paprika
2 pinches of chives
salt in flakes
Introduction
Nibbling in a restaurant while I was cutting 5 kilos of boiled octopus, I throw a few pieces on the grill to see the result. And indeed .... great success!. It gets a quick caramelization and a nice toasted flavor. Although great by itself with a little olive oil and salt, a refreshing mango vinaigrette goes fantastic with it.
An appetizer or tapas that we subsequently included in the menu.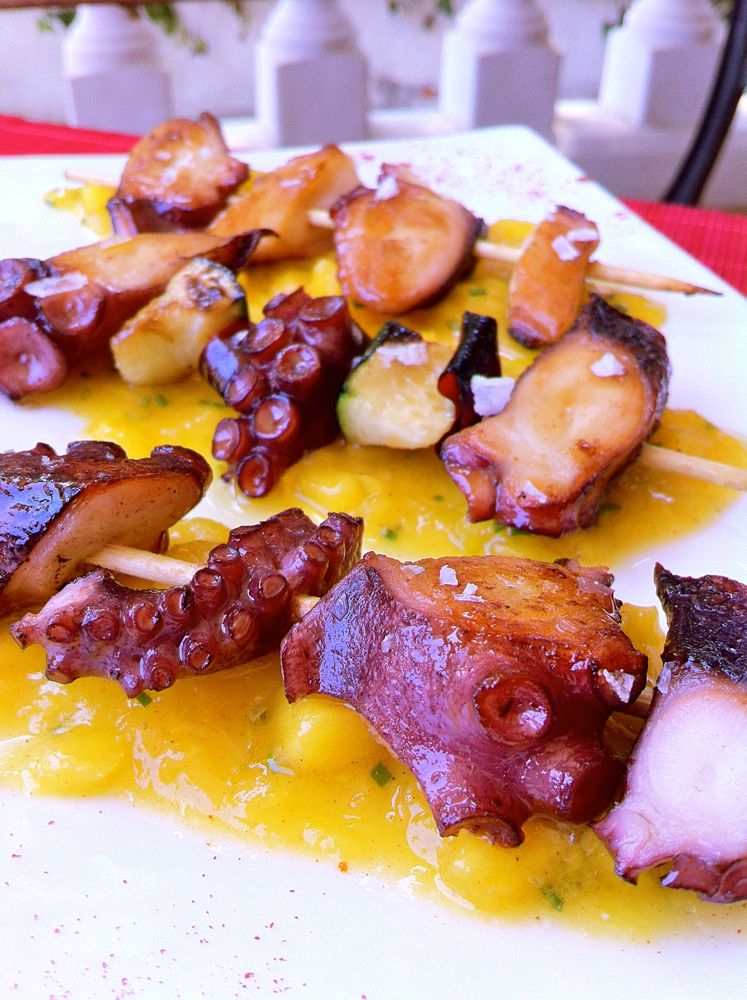 To enhance even more the aromatic flavor of the mango I added cardamom, smoked paprika and a very light extra virgin olive oil to the vinaigrette.
In a bowl, dissolve the honey with lemon's juice, add the oil, most of the diced mango and the rest of mango pounded until a creamy consistency. Add the seeds of two cardamom pods crushed in a mortar, a pinch of smoked paprika and a sprig of finely chopped chives.
To cook, bring to boil plenty of water (as much as for octopus to be easily submerged). If you want, add an onion and two bay leaves. Once it is clean, take the octopus by the head and dip it in boiling water for two seconds and pull it out, repeat this process 3 or 4 times so that the tentacles will curl and separate from each other and cook evenly. Soak all the octopus and let it boil over medium heat. The time for cooking depends on the size. The recommended size it's 2 kilos. Calculate approximately 1.5 hours, but for a perfect cooking point,punch it with a fork to understand when ready. The consistency should be slightly calloused. If you overcook it, it will lose even the skin.
Once cooked,  place it  in a bowl and when cooled down cut the tentacles into pieces, compose the skewers/brochettes, alternating with vegetables if you want. Place them in a non-stick frying pan or grill with a drizzle of olive oil and leave them for half a minute or until caramelized on each side. Serve with the vinaigrette and salt's flakes.