---
Thursday, April 18, 2013
Phad Thai noodles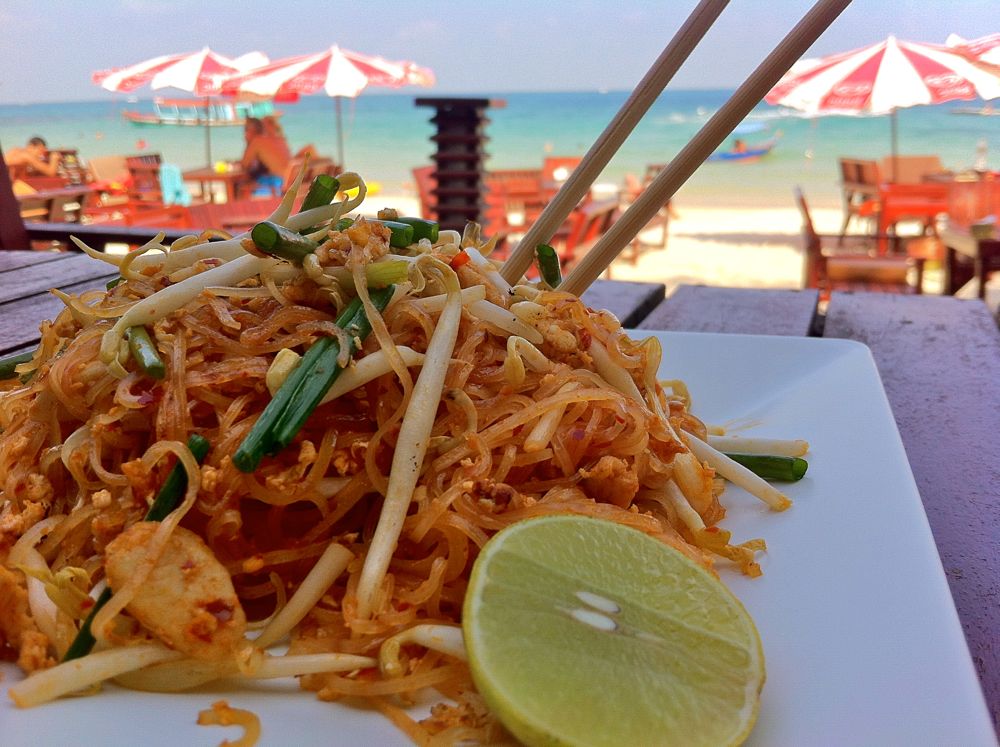 Ingredients
300 gr. noodles
3 tablespoons of oil
1 clove of garlic
1 tablespoon shrimp (mini) dehydrated
80 of firm tofu, cut into cubes
2 eggs
45 gr. roasted peanut
2 sprigs of chopped chives
60 gr. of bean sprouts
1 lime
2 or 3 tablespoons of sugar
3 tablespoons fish sauce
1 tablespoon soy sauce
2 tablespoons tamarind juice
Introduction
Back home after a fantastic holiday in Thailand with the family.
For the next week I am preparing a complete travel report "stuffed" with photos of this asian experience. It will not be an article about food only, but also more aspects of this country full of wonders and contradictions.
But for you to start heaving an idea of the flavor and the fragrance that you smell in Thailand, I leave you with this recipe: Phad Thay noodles.
The most classic noodles dish of Thailand. Delicious, simple, tasty and a little sweetish. With a couple of things quite unusual in our concept of italian pasta: peanuts and lime.
This particular dish from the photo (Ko Samet island), also had chicken. But the most classic is served without the addition of other proteins and this is what I'm proposing you. The shape of noodles can vary but is always made with rice flower.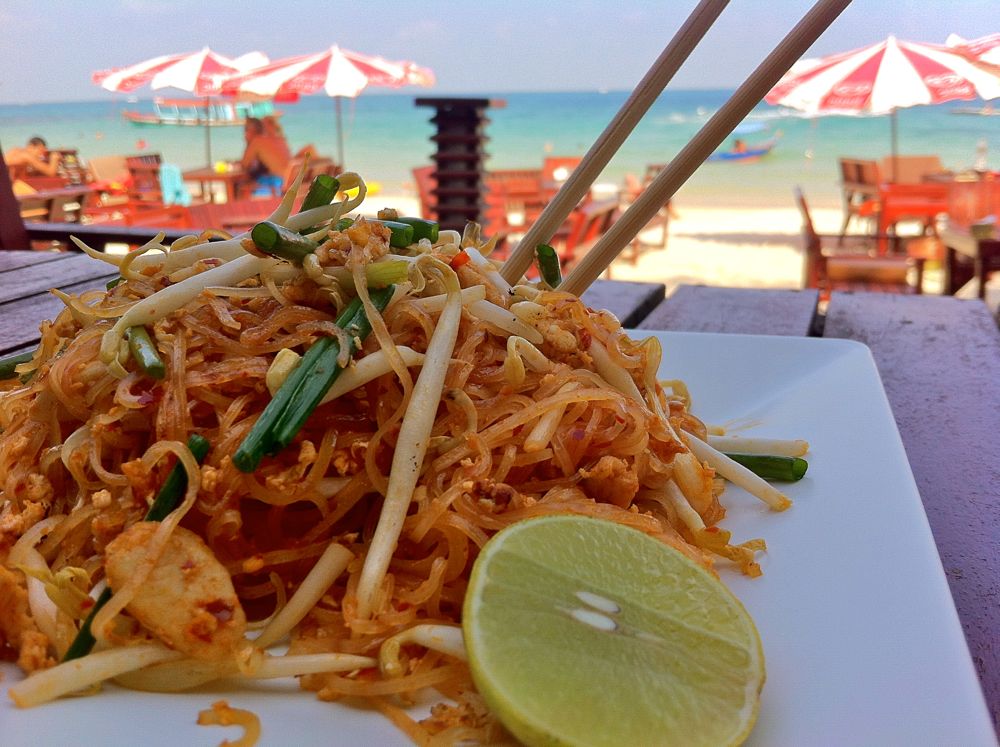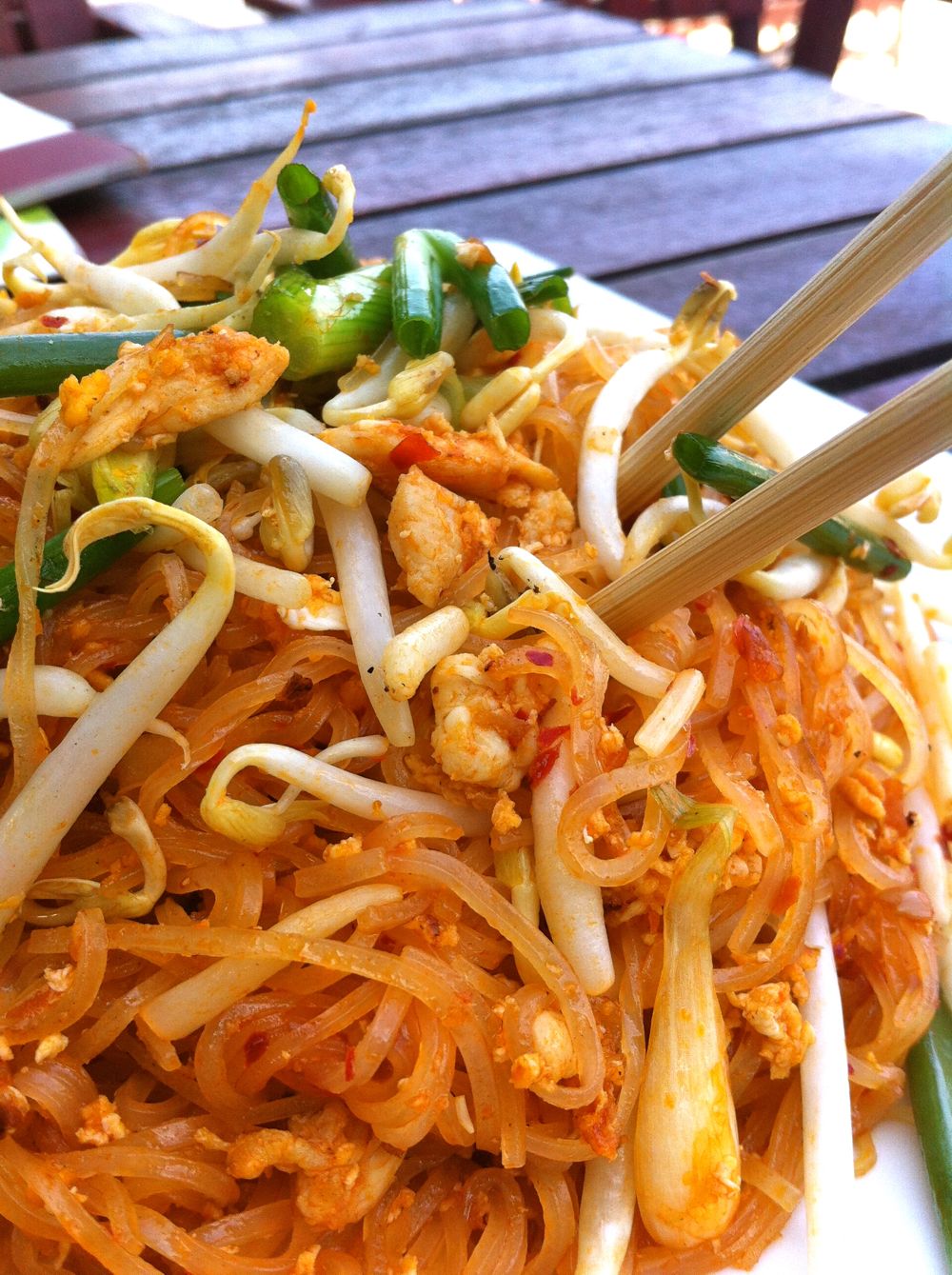 Hydrate the noodles by soaking them  in a bowl with hot water for 10-15 minutes. Prepare the seasoning sauce by dissolving the tamarind paste with  water and work with your hand or until it melts completely and the water turns brown. Then discard the fibrous part. The proportion will be about 5 tablespoons of water to one of tamarind paste.
In a small cup mix two tablespoons of tamarind juice obtained with sugar, fish sauce, and soya sauce. Very important this mix!.
Heat the wok (or pan) with the oil and fry the chopped garlic along with the mini dried shrimp and tofu. When the garlic begins to brown, add the drained noodles, lower the heat and add the mix of sauces, beaten eggs and sautè with motion until the egg is cooked and spread . Add the chives, the crushed roasted peanuts, some soya bean sprouts, and a squeeze of lime juice. Serve with the rest of the sprouts on top and a slice of lime for those who want to add that extra citric/sour  touch and correct the sweetish taste of this dish.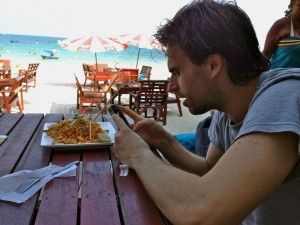 (nel backstage…) appena arrivato, pallido e già all' opera!