---
Tuesday, October 2, 2012
Egg yolk in a potato crust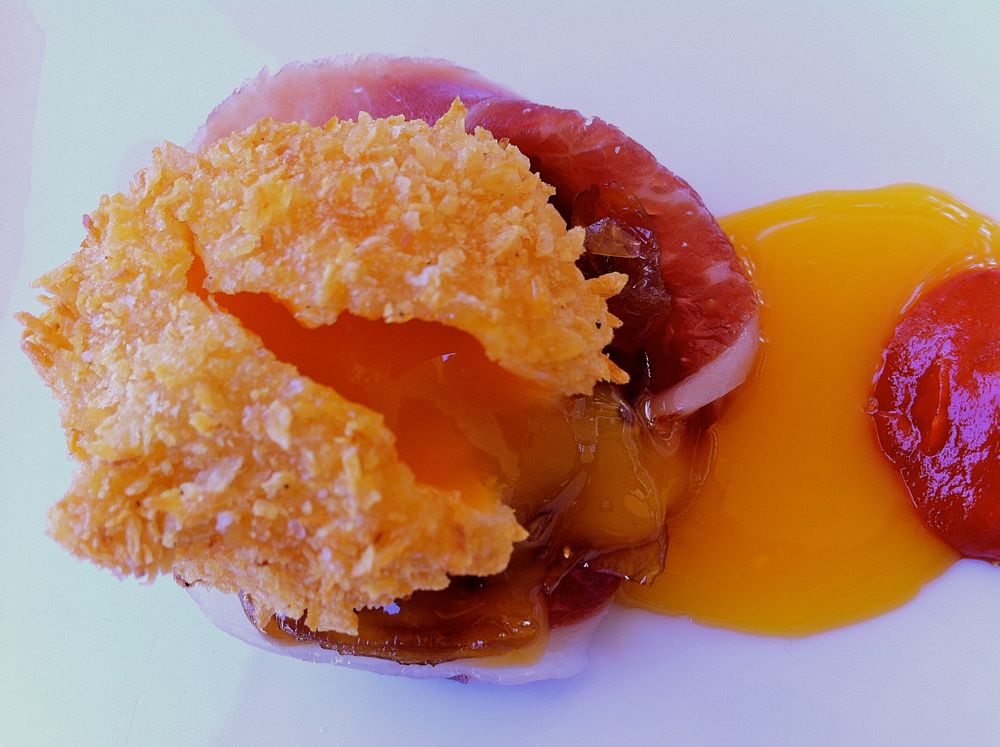 Ingredients
4 eggs
1/2 pound of onions
1 tablespoon sugar
120 gr. potato chips
1 clove of garlic
2 peppers
1 liter vegetable oil
4 tablespoons of extra virgin olive oil
1 handfuls of flour
salt
Introduction
A very nice way to enjoy an egg! Crispy outside, liquid and warm inside . An original and tasty tapas. A completely natural spherification and my first reconstruction / decomposition of a classic Spanish dish "huevos with patatas a lo pobre", which means: fried eggs served with potatoes cooked together with onions, garlic and peppers. A rustic, poor and comforting dish of the Spanish tradition.Often served with ham or sausages.
The technique of decomposition is the art of rebuilding / revisit a classic dish by elaborating all the elements and flavors that compose it separately. Then reassemble it creatively. Re-interpret.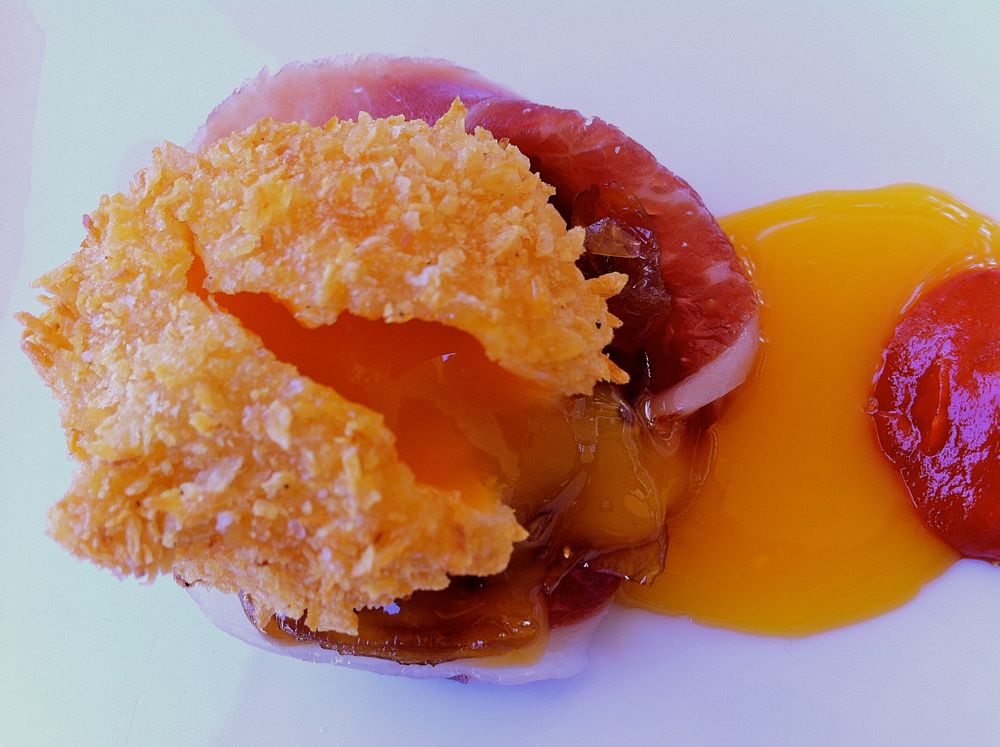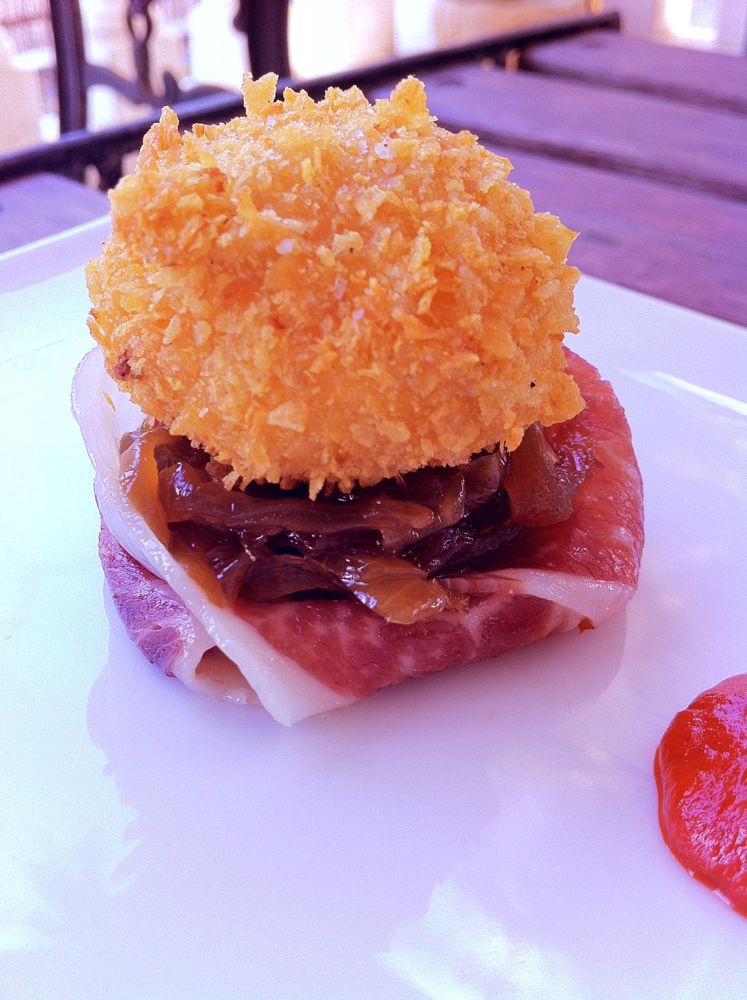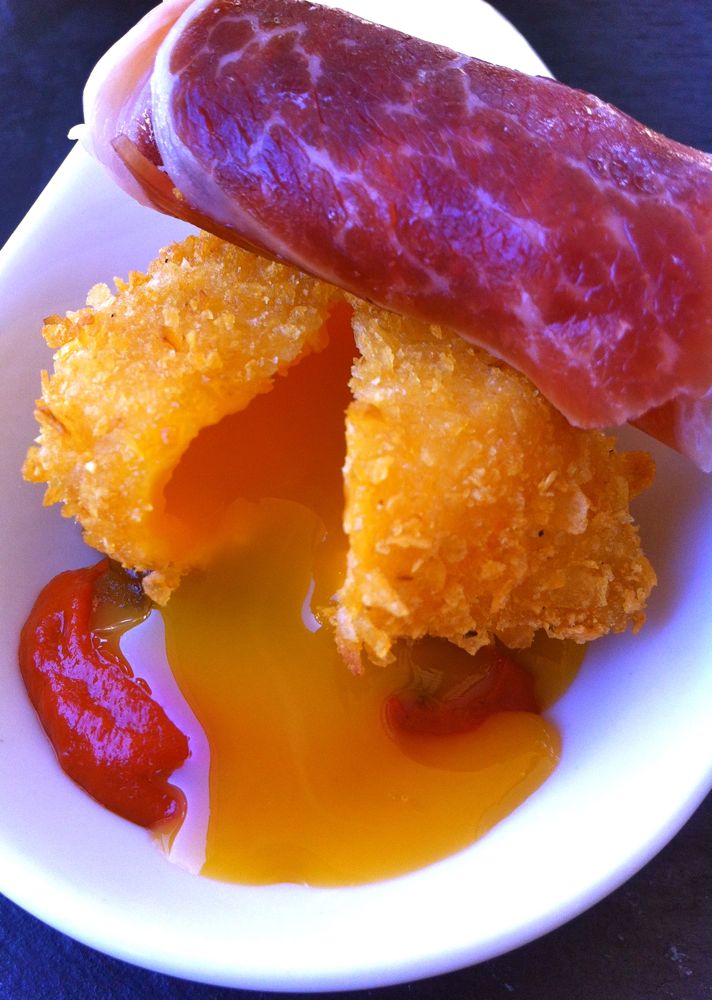 So I fried the egg yolk with a potato breading and I served it on a bed of caramelized onions, a pepper sauce and some cured ham (optional).
Cut the onions finely. Take a pot with a good steel bottom and cook until they get a brown (about 30 minutes). To caramelize the onions well, put two tablespoons of olive oil and turn the onions not to often, giving the time to stick to the bottom (not burn), and so caramelize. Add 1 tablespoon of sugar at the end to accentuate the sweet. The initial weight of the onions will drop to less than half and the volume to a quarter.
For the sauce, cut the peppers into strips and sauté with 2 tablespoons of olive oil and 1/2 onion. A little water at the end and when well cooked blend everything with a pinch of salt. If you find the roasted spanish peppers "piquillo" in jars, go for it!
Thinly slice two potatoes with a mandolin and fry till complete dehydrated. Or buy some chips. Grind the potatoes till you obtain a consistency similar to bread crumbs and pour into a dish.
Open the eggs into a bowl, taking care not to break the red. Isolate the egg yolks. Add to the egg white some minced garlic and mix well. Pass the egg yolks in a dish with flour, then in the egg' s white with garlic and finally in the potato crumbs. Once breaded place them on a flat plate. The process for breading the egg yolks is very delicate. So keep some extra egg for emergency!. Heat the oil in and when smoking hot pour the eggs by sliding them from the dish to the pot with a unique and fast move. Time 4 seconds aprox. and out.
Assemble the dish or spoon at will!
I remind you that the yolks are supposed to be eaten in a single bite as it is liquid inside!. If you break them with a fork you will lose the magic of the warm red yolk exploding into your mouth.
I'm sorry about any mistakes I may have made, English is not my first Language