---
Sunday, August 5, 2012
Rice with baby squid and fresh spring garlic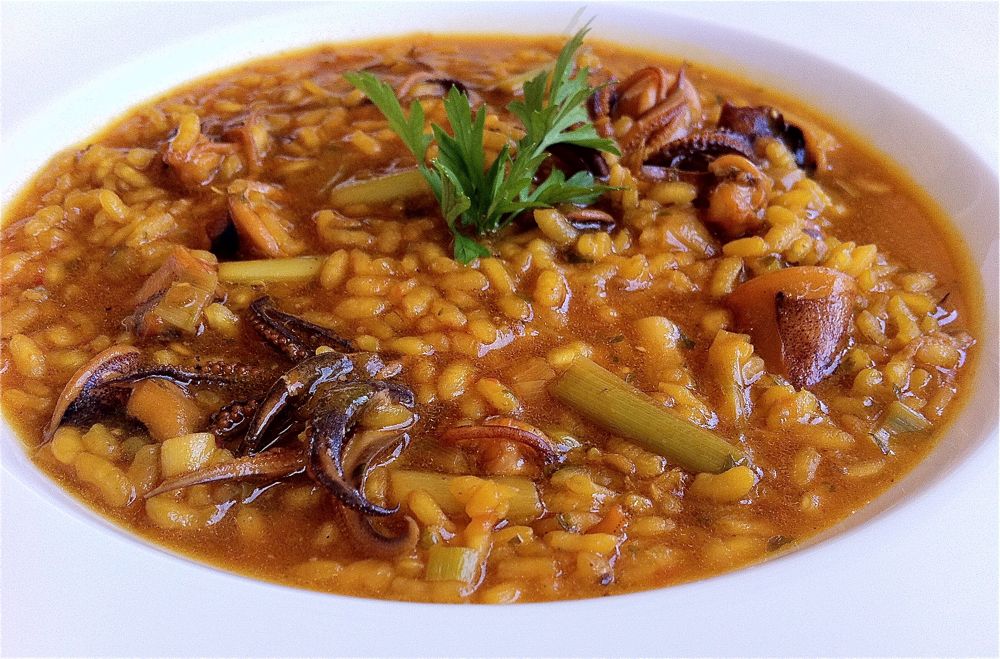 Ingredients
broth:
4 tablespoons of extra virgin olive oil
1 generous handful of small shrimp
1 generous handful of pescioletti broth
1 onion
2 stalks of celery
2 carrots
2 cloves of garlic
1 small glass of white wine
2 bay leaves
2.5 liters of water
rice:
80 gr. young garlic
300 gr. baby squid
1 tomatoes
160 gr. Senia or Carnaroli rice type
1 pinch of paprika
1 pinch of saffron
1 bunch of parsley
1 shot of aniseed liqueur dry (not sweet)
700 ml. of broth
3 tablespoons of extra virgin olive oil
Introduction
A spanish type of rice called "arroz meloso" which means creamy rice. Similar to risotto but less dry, with more broth. A plate to eat with a spoon. Excellent with fish or meat. The most common are : shrimp, lobster, mixed shellfish, chicken and vegetables, rabbit or duck with mushrooms. A simple cooking process where the base, as for all rice dishes, it's s a good broth!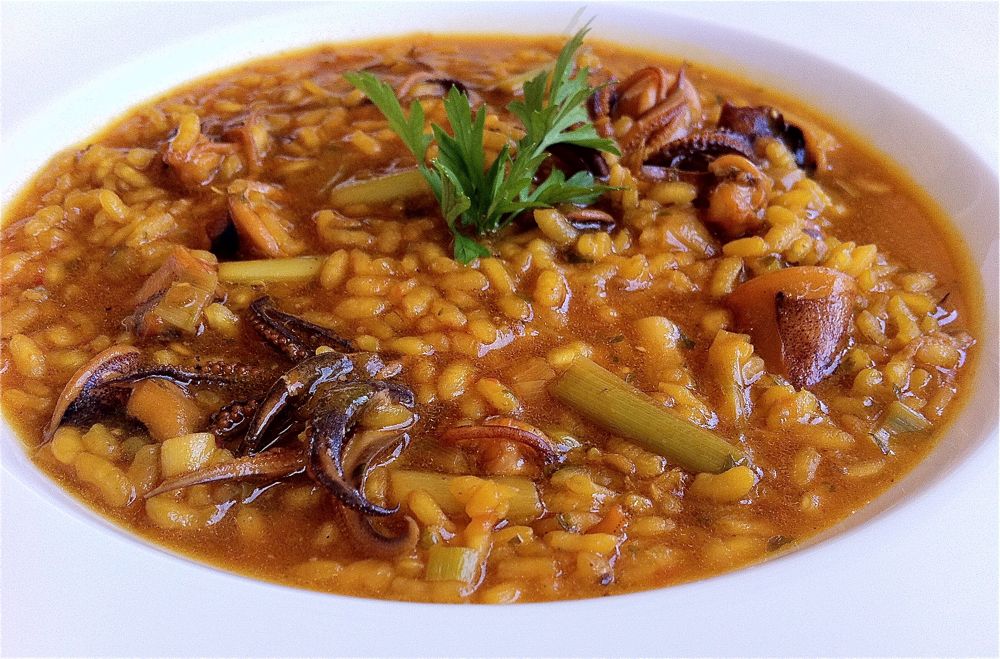 Prepare a broth, not a classic fumet (clear and light), but a strong broth. A broth with both shellfish and white fish bones.
Begin by toasting small shrimp (crabs, shrimp's shells etc..) in a pot with some olive oil. Add the garlic, onion, carrots, bay leaf, celery and continue to stir. When browned add the white wine and follows the grated tomato. After a few minutes add the water and cook for half hour, add the white fish bones and cook over medium heat for an other half hour. Skimming occasionally the top of the broth to remove impurities.
For this dish today, I combine the baby squids with the sping garlic . This fresh spring garlic called  "ajos tiernos"  is very used in Spain. Basically, it's the garlic before it reaches maturity. When the bulb is not yet fully formed, and the thallus is still green. The result is a much lighter garlic taste, not spicy and sweet. Delicious! If you can't find it, use a normal clove of garlic combined with half onion.
Instead of the white wine, we will use dry aniseed liqueur dry (not sweet) and believe me, it gives a fantastic aroma!
Clean the young garlic as you would do with a leek and cut into small pieces (2 cm.) . Fry them with 3 tablespoons of olive oil, add the baby squid, stir  and after a minute pour the grated tomato, chopped parsley, paprika (pimienton) and saffron. A splash of the anise-flavored liqueur, the broth (drained) about 700 gr. and bring to boil. Check seasoning.Finally add the rice and lower the flame to medium-low. Turn every now and then. Cook for 15 minutes ( depending on the rice ) and let it rest for 2 minutes. Serve with a spoon!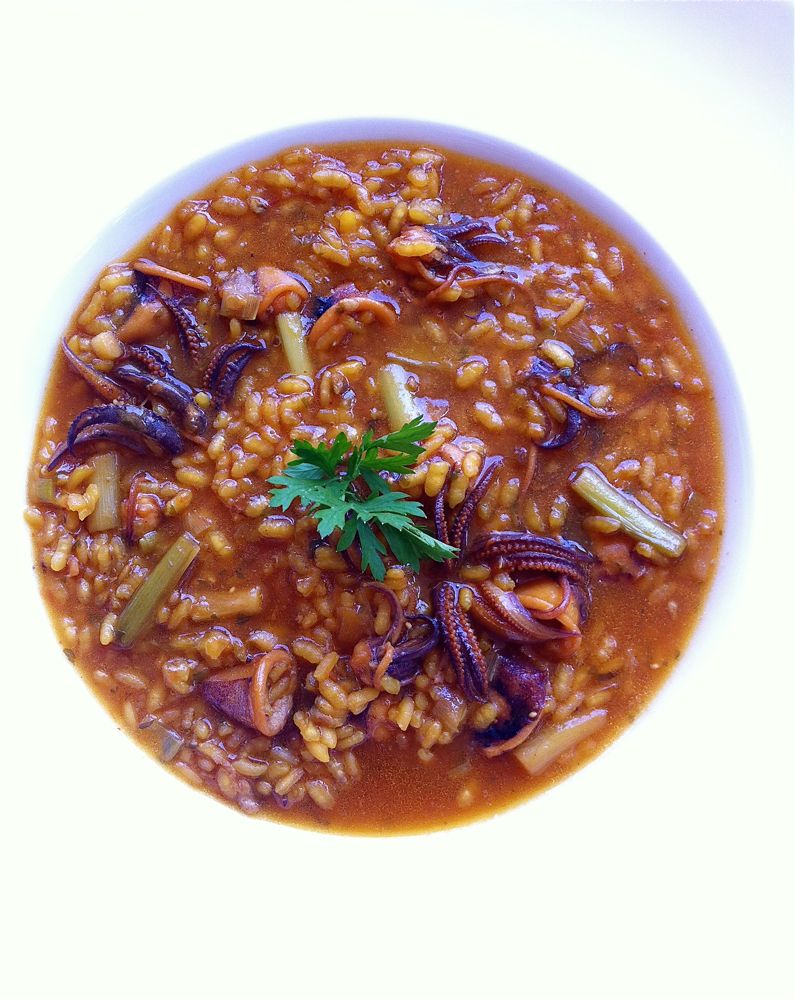 I'm sorry about any mistakes I may have made, English is not my first Language